Smart spaces that enable work-life balance
Date posted May 30, 2022
By Vaughn Alviar@INQ_Property
May 30, 2022 12:00:00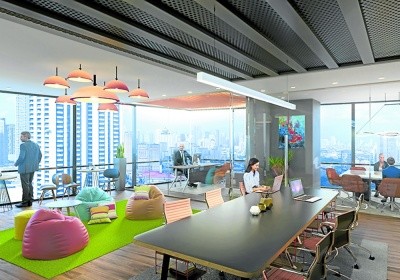 Having worked from home (WFH) for over two years now, many Filipino employees are vehement in their pleas to go back to the office. For them, WFH prevents work-life balance, throws comfort out the window, and prevents meaningful work relationships.
On the other end of the spectrum however, you have employees who threaten to resign because they don't want to report to the office anymore. At least when they are at home, they can multitask or stay with their family, or spare themselves the hassles of traffic and commute.
Both sentiments are valid, prompting companies to rethink policies and redesign workspaces that will be suitable for both. Today, companies are working to improve on well-being, comfort, motivation and more—but old offices can only do so much bending in this great recalibration. That's why employers are now finding newer office spaces, like these ones offered by trusted developer Ortigas Land.
Offices at The Galleon
Not only is The Galleon, a two-tower mixed-use development rising along ADB Avenue in Ortigas Center, an architectural marvel. Half of this complex is also proving to be an ideal workplace of the future. While the taller tower will be a luxury residence soaring 51 stories high, the 39-story building right by it will host Offices at the Galleon.
Locators may choose among over 400 spacious suites, all with premium finishes. Well-being is ensured by The Galleon's compliance with the Green Building Code (GBC) and its pursuit for a Leadership in Energy and Environmental Design (LEED) Silver certification. Moreover, Ortigas Land tapped experts to make sure the building could withstand extreme conditions and guarantee energy efficiency.
The gorgeous vistas, sleek public spaces and communal gardens—even the amenity idea of bike racks and shower rooms—could be a strong hook for onsite work, whether full-time or hybrid. Workers could also get to the retail area downstairs swiftly to visit food and retail shops. If any of them decide to buy into Residences at The Galleon, they might prefer to take their lunch break at their swanky condo.
The Glaston Tower
Another future-proof option for company headquarters is The Glaston Tower, a 34-story building in Pasig City. When it is finished in 2023, its 300-plus office units—all accessible through 15 elevators—will excite workers to report not only because of its shell but also because of the experience it provides.
First, The Glaston Tower is compliant with the GBC and targets a LEED certification, telling prospective locators of Ortigas Land's confidence in the green, efficient and sustainable technologies it employed. Second, workers are privileged with scenic vistas, parking slots, a ground-floor lobby, a sky lobby that leads to a mall.
The appeal will not only come from the building alone, but from the whole lifestyle espoused by Ortigas East on which it stands. Some 40 percent of the 16-ha "eco estate" comprised of open spaces. Thus, while you get the great destinations to shop and dine in, like Tiendesitas, you may also bike or walk around, or pick a park to hang out on.
GH Tower
Greenhills Center is in transformation. One addition it is getting in its big facelift is a modern office building named GH Tower, a 21-story building perfect for BPO and IT companies, plus a mix of local and multinational brands.
Ready for fit-out in February 2023, GH Tower was designed for flexibility to company sizes and layouts—something to delight brands currently reworking their structures. Despite that, it delivers exclusivity through a grand office lobby that bids hello with a warm staff and luxurious interiors. While the building applies for Peza accreditation, it also seeks LEED Silver certification.
Greenhills Center, to the Filipino mind, means tiangge. The estate indeed gives guests everything from clothes to food and jewelry, among many others. Employees at GH Tower will have unprecedented access to all those stalls through a sixth floor access that connects to Phase 1 of Greenhills Mall. That seamless continuity—another proof that the project is indeed an homage to the entrepreneurial spirit and a new phase of commerce—packs strong convincing power.