Banking on a safe, secure investment
Date posted May 21, 2022
By Vaughn Alviar
May 21, 2022 12:00:00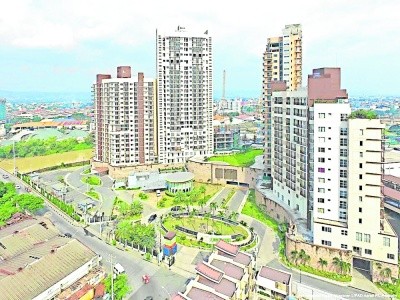 There is power in owning real estate. This may be an age-old view in the Philippines, but it's far from speculation or superstition. Evidence backs it up.
Real estate is recognized as a strong inflation hedge. Investing in it allows people to protect themselves—at a certain extent—against a decrease in the purchasing power of money or inflation. Investopedia lists it as a top hedge option, even calling it a "time-honored" choice.
"It's a tangible asset, and those tend to hold their value when inflation reigns, unlike paper assets," said the financial website. It also noted that, due to their intrinsic value, real estate assets' prices—and the rent investors can demand for them if they are turned into income streams—can rise.
Through crests and troughs, demand for residences will always be there. Shelter is a basic necessity, after all. That connects to another advantage of investing in real estate: its resilience. Local property pundits and honchos actually refer to the Asian financial crisis in the mid-1990s to prove how well assets in real estate weather such challenges in the Philippine setting.
Investors also encouraged uptake and investment during the gloomiest chapters of the COVID-19 recession, some even declaring they would bet their last dime on real estate. Those who actually invested then will no doubt stand to reap the rewards amid the ongoing economic recovery.
Enduring brand
If you still aren't convinced about the stability of investing in properties, add an extra layer of security by partnering with brands that have endured. When you talk about longevity and staying power, one real estate leader that comes to mind is Ortigas Land, a builder that has been at it for 90 years and counting, contributing to the Metro Manila we know today.
Ortigas Land has taken over idle lots and sleepy quarters of the capital, and curated them into economic bright spots comprised of fine addresses, modern office spaces and vibrant retail meccas, among others. All these transform with the demands of the times and generations, thanks to the adaptability of the veteran developer.
Forward-looking estates
Ortigas Land has banked on certain constants in creating and redesigning its portfolio of estates: superb masterplanning, quality construction, high accessibility, and the assurance of upward mobility and capital appreciation. While ensuring all those, it still thinks of ways to give each of its communities a distinct appeal and a future-ready selling proposition.
For instance, Circulo Verde is designed to provide an iteration of suburban life inside an urban setting, something hard to come by in a very dense capital region. Ortigas East, formerly Frontera Verde, is a sustainable "eco-estate," 40 percent of which is lush greenery, open spaces, and pedestrian- and bike-friendly roads. Capitol Commons is an oasis and a stomping ground appealing to the ambitious and cosmopolitan.
Marvels on the skyline
Knowing full well that needs and wants evolve with time, Ortigas Land has been pushing the envelope through never-before-seen concepts and designs, as reflected by some of its newest buildings. One will not miss The Galleon, the first mixed-use project in Ortigas Center. The office and residential towers look like sails while the retail podium resembles a hull--a structure to behold.
The residential block on Capitol Commons is also delivering exciting products, among which The Maven and The Empress, a lifestyle-driven product with a unique Amenity Deck and the country's first wellness lifestyle real estate, respectively. Ortigas East is home to The Glaston Tower, a workplace of the future that delivers on the estate's promise of sustainability.
In an ageless pursuit to perfect the art of life, work and leisure, the best is always yet to come. Ensure that your investment is indeed safe in real estate, in Ortigas Land.