Ortigas & Company Anchors Its Premier Development In Ortigas Center With The Galleon
Posted by Ortigas Land
Date posted July 30, 2019
Ortigas Offices
Ortigas & Company sustains its momentum in expanding its office portfolio with the launch of The Galleon, a mixed-use, two-tower property which will soon rise in the heart of Ortigas Center which will offer office, retail, and residential spaces.
Poised to become Metro Manila's next prime business address, The Galleon offers a rare opportunity for investors to own a piece of Ortigas Center. The first tower to be introduced will be the office building which will provide spaces fit for the needs of businesses—whether multi-national companies, conglomerates, or professional firms.
"We are excited to introduce The Galleon to the market, especially as this is a premier development in the Ortigas central business district. As the demand for high-quality office spaces continues to rise, we are confident that this property will be able to offer something new to investors who place a premium on convenience, accessibility, sustainability, and the prestige to claim their own piece of Ortigas Center," says Ortigas & Company President and CEO Jaime E. Ysmael.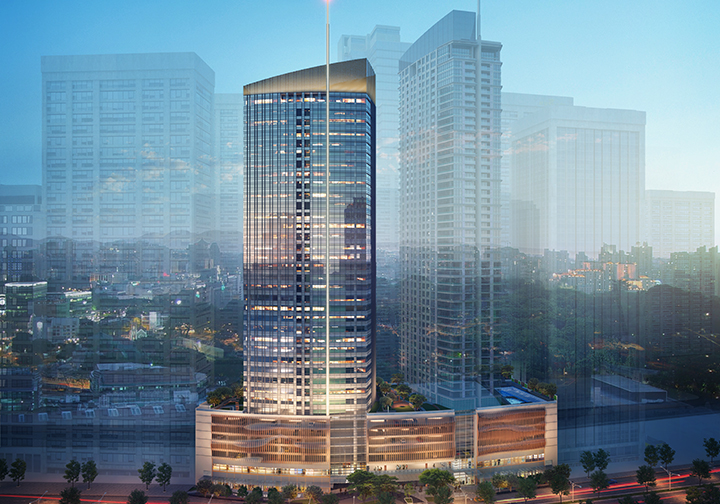 The Offices at The Galleon will be the first tower to rise in the development. The 30-storey office tower will be built with sustainability features that will benefit both the community where it sits and tenants who see value with investing in an upscale office space in one of the metro's prime CBDs.
Offices at The Galleon will consist of 31 office levels with food and retail establishments on the first two levels of the building. There will also be five levels of basement parking to accommodate office tenants and retail patrons. Unit sizes for office spaces start at 75 square meters (850 sq. ft) to 767 square meters (8,256 sq. ft), with prices ranging from PhP 20.9 million to PhP 184.3 million.
The tower exudes a modern look, with glass exteriors allowing natural light to fill the spaces. The design is intended to showcase the promise of high-quality and premium spaces which is offered by The Galleon.
Set to rise along ADB Avenue and right across the Asian Development Bank Headquarters, The Galleon offers convenience, and accessibility given its location. Various food, retail, and entertainment establishments surround the property. Situated near EDSA, and rising in the most central point of Ortigas Center, navigating to the surrounding cities is made easy.